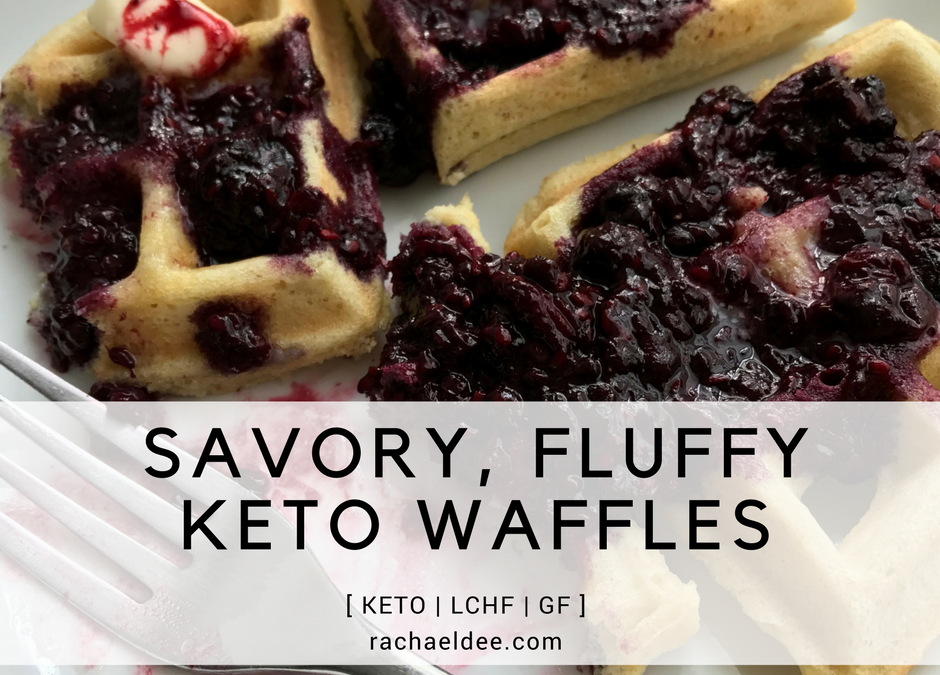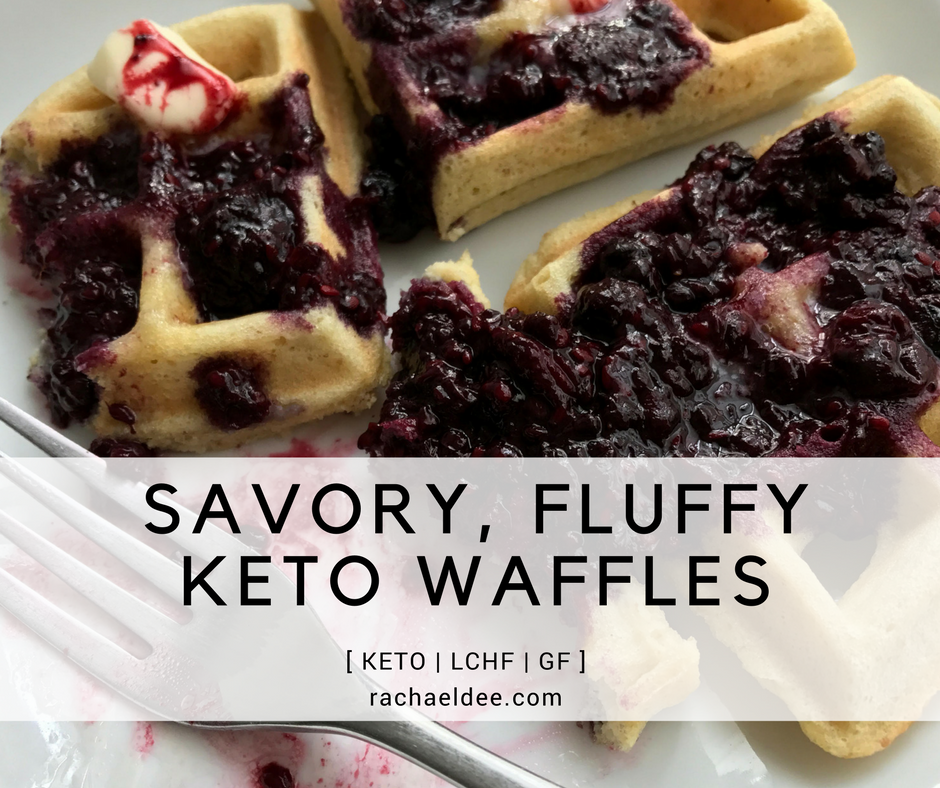 Keto waffles for dinner with a low carb blueberry glaze! OH MY SWOON!!!
The other night I was seriously craving a heaping plate of WAFFLES.  Im talking smothered and covered, oooooooey gooooooooey melt in your mouth waffles and I don't know how I TOTALLY forgot about this recipe from way back in the day when I first started KETO!
PLUS waffle makers are SO CHEAP and they are so easy to make!  This recipe really gives you that fluffy, savory texture and is chock full of FIBER!  Most times I can only eat half of one because they are SO filling 🙂
With toppings we have tried a yummy handful of things that have given us the taste and texture we are craving! First and foremost is MELTED BUTTER EVERYWHERE.  Rember growing up where you thought you had to be scarce with your butter but REALLY wanted all those little squares to be filled! DREAM COME TRUE!  Now I love it when its smothered and covered with that beautiful butter glory!
There are a ton of great SF syrups that you can find and your local grocery store or Amazon and that is my hubbys favorite way to consume these waffles.  We have also melted peanut butter and grass fed butter together to make a delicious melt in your mouth syrup and that is my personal fave!  But this time around we went for that refreshing summer berry glaze and it turned out PERFECTLY!  Plus it was so easy and you can drizzle any remainin over your homemade Keto Icecream ;). #winning
These are also DELICIOUS cold out of the fridge and PERFECT for lunchbox snacks!
Have fun with this recipe and remember that almost ANYTHING can be made with KETO friendly ingredients!  Don't think that its a restrictive and boring way to live but rather SIMPLE, SATISFYING and SUSTAINABLE!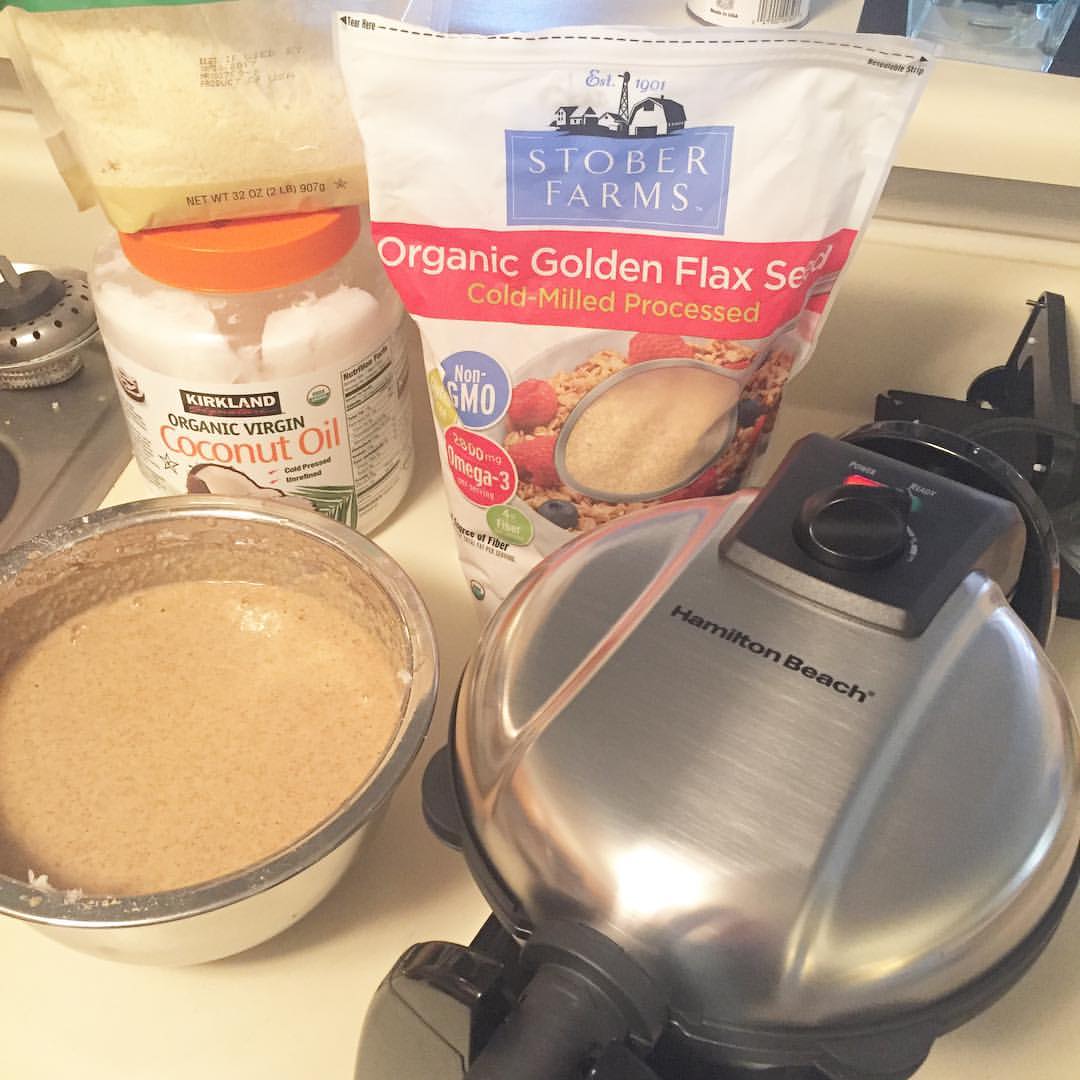 Recipe.
(It made 5 big 7 inch waffles-size of my waffle maker. Adjust carb count accordingly)
2 C Almond Flour
8Tbl Flaxseed
2 Tbl Psyllium Husk ( optional)
1 1/3 C Coconut Milk
1 Tbl AND 1 Tsp both Vanilla AND Baking Powder
8 Large Eggs
1 1/3 Tbs Ghee (or butter or coconut oil)
1Tbs Cinnamon
1/3 C Serve (optional)
Instructions.

-Plug in waffel iron and turn on to pre-heat.
-Place items in bowl and mix well with KitchenAid or hand mixer. Be sure to blend well.
-Spray iron with coconut oil spray (I find this is the ONLY way to truly get them to come off easily and without breaking and has the most mild taste. I get mine at Walmart.)
-Spoon or pour batter into pre-heated waffle maker and cook until done (varies by manufacture).
-Remove lush waffle and repeat until batter gone. Batter will thicken as it sits in bowl.
-When all waffles are made, Divide net carbs of 34 by number of waffles you end up with.
(I ended up with 6 waffles, so 5.6 net carbs each)
-Add carbs from your topping if you use them. Enjoy!!
Blueberry Glaze:
1 Cup frozen berries
3tbsp swerve
Bring to boil in saucepan over medium heat and let simmer for 5-10min till thick.
xox,