Normally I wont post 2 recipes a day, but this one is TOO GOOD to pass up!
ALMOND MEAL BREADED BAKED CHICKEN!!!  It's so easy to make and is my husbands FAVORITE!
We paired it with sautéed garlic green beans… YES LORD!  It was the perfect post workout dinner!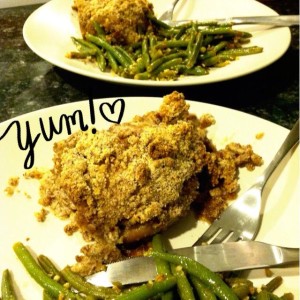 Ingredients:
4 Chicken Thighs
2 cups Almond Flour
2 eggs
2-3 TBS spicy brown mustard
1 heaping TBS garlic powder
1.5 TBS of your favorite seasoning (We used a Caribbean Jerk! yummmm)Salt & Pepper to taste
***Disclaimer: I am a seasoning FREAK!  I always feel like you can never have enough! Go big or go home!
To Make:
-Preheat over to 350-In a separate bowl, mix together eggs & spicy mustard, set aside.
-In large mixing bowl, add all dry ingredients together.  (Make sure to mix WELL)
-Dip chicken thighs one at a time into egg mixture, then into dry mixture.  make sure to coat chicken GOOD because the almond meal bakes SOOOO NICE!  (We always save the extra "bits" till the end because they are the BEST!!!)
-Place your now DELICIOUS chicken thighs in the over, set timer for 30-45 min (until juices run clear) and DIG IN!!!
Hope you like this recipe as much as we do!  Its flexible, so add, subtract and HAVE FUN!
Live, love and BE Happy!
Rachael Dee xox