That's right friends, I'm passing on the Christmas Cheer to YOU!
With only 4 hours of sweet and precious sleep, I woke up this morning at 5:30 with so much excitement about the huge sale that has been running today.  I honestly love watching and seeing what items go first, because it gives me such a good idea as to what YOU, my audience is looking for.  I can post different pieces all day long, but without your feedback, I am lost as to what it is that you are wanting from rachaeldee.com.
I snuggled up with my teensy puppy this morning and smiled as I saw ladies starting to claim their gorgeous pieces quick as lightening!  It was so much fun!  I received such incredible feedback this morning with a handful of ladies sharing with me how grateful they were for the 70% off sale price.  Most were on a tight holiday budget so I decided that I had to extend it for the rest of the day!  With only 19 days left, this is a great sale price!  There are over 250 items still available so make sure to pop over now and take a look.  I love it when we get to work together and I'm richly blessed when you are HAPPY!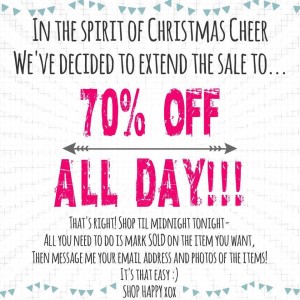 If you have any questions at all, I am available all day here and also on my Facebook page HERE, so make sure to ask me!  Also, make sure to SHARE this with your friends!  There is plenty of CHEER to go around.
You can locate ALL items at my Facebook business page 🙂
Make sure to say hello while you're there and tell me how your holiday has been!  Thanks so much sweet friends and I hope you have an amazing Friday Evening!
(Click HERE to go directly to the photo album)
As always, Shop Happy!