HAPPY MONDAY FRIENDS!
So I have a pretty severe gluten intolerance… which is OBNOXIOUS because anything yummy, or wonderful or sparkly has gluten. I have been sick for a few months now and I am trying to take my responsibility by what I put in my mouth and body and take care of the temple that the Lord gave me!  This is going to be a regular "Clean Eating: Gluten, Sugar & Grain Free" recipe section of my blog 🙂  I am excited to post many of the delicious eats and treats that my husband and I consume on a regular basis, and the fun experimentation of trying out new things!
The reason that I am including grains into my list of BANISHED items is that even though grains are good for you and most people eat them on a regular basis, my body just doesn't seem to process them very well. Having type 1 diabetes has a lot to do with that, and more often than not, a simple cup of rice will spike me into a high blood sugar… then a headache, then a migraine… so you get the point, NO grains for me!
***DISCLAIMER: I also want to be realistic. Whereas gluten has a direct negative affect on me physically, grains simply make me feel sluggish and lethargic. They are however manageable… So if I am going to Chipotle, by golly you KNOW that I am getting some brown rice as my base!  I just had to clarify… because sometimes a girl just needs a plate of NACHOS! Can I get an amen? AMEN! 😉
So that leads me to a quest to come up with yummy, clean, healthy (and sort of healthy) recipes that are gluten, sugar and grain free!  In the Clean Eating series, I will post all sorts of recipes that I come up with, and ones that I find and LOVE!  If you have a request, please leave a comment and I will get to cooking for you!
Today's adventure is an inspiration from my mother and husband! Turkey, Ham & Cheese Lettuce Sammies!
My husband loves a good sammie (sandwich!)… and bread… But once he married me, those things couldn't stay in the house because I WOULD EAT THEM!  However, my mother came into town and bought my hubs A TON OF SANDWICH BREAD!  We didn't know what to do with it!  After freezing it for 2 weeks, there was one morning where we were running SUPER LATE and I didn't have any leftovers to send him for lunch… So I grabbed the bread and threw him together a quick sandwich and called it a day!
He got to his break that day, and called me in joyous shouts as to how DELICIOUS his sammie was!  I was only slightly jealous and decided that I would figure out how to create a sammie that was Rachael approved!
What I came up with isn't anything new, but boy oh boy it was brand new to me!
I used romaine hearts for the Sammie Bread, put a bit of garlic herb "Laughing Cow" cheese on the sides, tucked in some turkey, ham and pepper jack cheese, cut up a few cherry tomatoes and smooshed it together like a sammie! IT WAS DIVINE! I seriously inhaled it!  Pair that with a Tazo Passion Fruit Ice Tea, sweetened with Stevia and I was in heaven!
Hope you try these yummy, delicious sammies and love them as much as I do!
(The sky is the limit in your ingredients!  I think next time I am going to try hummus in it as well!)
Live, Love & BE Happy!
Rachael Dee xox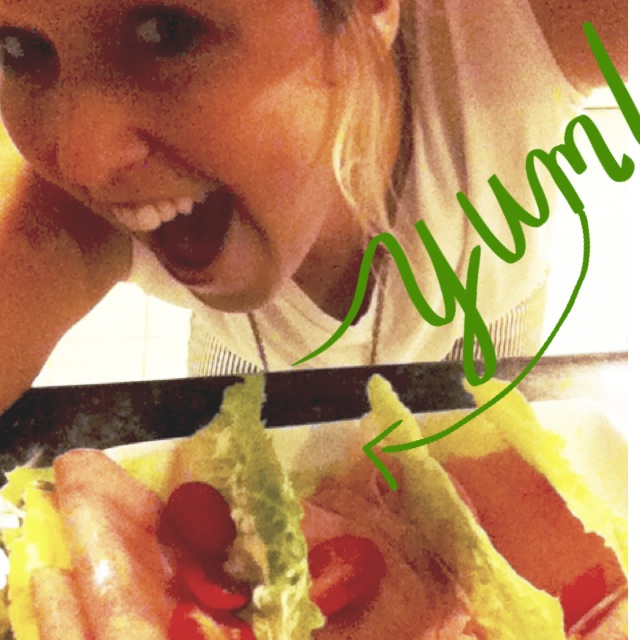 RECIPE:  Feeds 2 people
4-6 Romaine hearts (dependent on size of lettuce)2TBS of dressing/mayo/cheese/salad dressing- Smooth over lettuce
4-6oz of lunch meat
1-2oz of sliced cheese (I have also tried shredded cheese and works great!)
Chopped veggies of your choice (Tomatoes, Cucumbers, sprouts etc…)
Smoosh, wrap and ENJOY! xox