I love pie. I love cobbler. I love anything with fruit and a nice sweet crust…
BUT I cannot eat gluten or refined sugar right now and EVERYTHING sparkly and glittery and magical has gluten in it.
That is until I found my best friend ALMOND MEAL!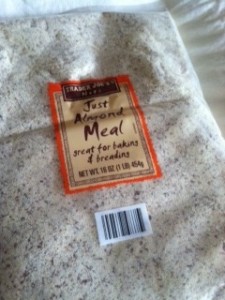 THIS ITEM HAS CHANGED MY LIFE.
Seriously. And my husbands!
When I made this Blueberry Peach crumble that I adjusted off of a Paleo recipe, then made Nutty Cookies (recipe to come soon!) I thought he was going to die from happiness! And it is SO SO SO EASY to make! I made a peach and apple crumble last night and it was so yummy!
When you are looking at your ingredients, you can use ANYTHING that bakes well! Berries, either frozen or fresh, peaches, apples…I even might try an apple and raisin combo! reminds me of FALL!!!
The possibilities are endless! And I have loved combining different ones together for a rich and yummy combo 🙂
So here is the recipe!
Almond Meal Crumble!
3-4 cups of your favorite berry or fruit (or peaches, apples etc…)
1 egg
1 1/2 cups of ALMOND MEAL!
2 tablespoons of coconut oil
2 tablespoons of cinnamon
Instructions:
1. Heat your over to 350
2. Pour your fruit of choice in the pie pan.
(I like to coat mine with a thin layer of the coconut oil to prevent the fruit from sticking on the bottom. Makes clean up a breeze!)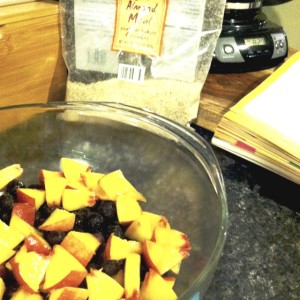 3. In a small mixing bowl, combine your egg with the almond meal and coconut oil. Mix until it becomes a thick consistency and the oil is blended in nicely. As you are mixing you can sprinkle in the cinnamon and blend that in well.
4. Scoop out the mixture and crumble on top of the fruit. I made them into quarter size dollops and spread them evenly over the fruit. Bake in the oven for 30-35 minutes.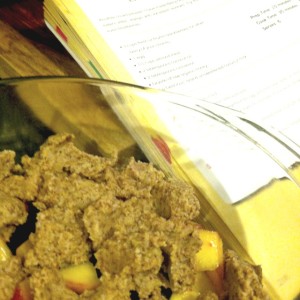 You can serve it by itself with a little raw honey drizzled on top or place a small scoop of organic coconut ice cream on top. DELISH!
I hope that you enjoy this as much as our little family did! Don't let the recipe limit you, but have fun mixing in different ingredients!!!
Live, eat and BE happy!!!
Rachael Dee xox