That's right lades.
LEGGINGS!
I know that in the fashion world right now, there are many poor uses of these wonderful additions to the "pants" category, but leggings bring great comfort and ease while still looking polished!
Wait.  Hold UP. 
Did she REALLY just put leggings in the PANTS category??
Yes.  Why YES I did.
I mean, come on now!  Leggings DONE RIGHT look awesome!  I'm not talking about wearing TIGHTS with a cutoff top or even a thin cotton legging with a cropped shirt…Seriously ladies.  No one wants to see your underwear print… or the dreaded camel toe.
Please.  Spare us the pain and discomfort.
I am however talking about my FAVORITE way to look chic and feel comfy all day!
Behold!  THE LEGGING!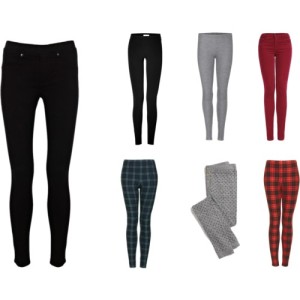 There are 3 things I love the most about a leggings versatility!
1.  You have a great diversity of fabric choices, which allows your level of comfort to be maximized.  I tend to stick with cotton, but have some leggings in tweed that are great.
2.  Perfect for BOOTS!  I remember in my mid 20's when boots made a huge impact on the way my friends and I dressed.  Skinny jeans hadn't fully made their entrance and we would tuck and roll our pant legs into socks to get that fitted feel.  No need with the legging!
3.  Perfect transition for summer dresses into your fall and winter wardrobe.  Most of my dresses are in a classic print or solid color, so when layered with a pair of leggings and some boots, I have an adorable ensemble and I stay nice and warm.
MY CURRENT OBSESSION: PRINTED LEGGINGS!!!
Here is where it gets FUN!  I love the new addition of prints because it allows you to stay trending with all of the bright colors, fresh floral designs and my favorite trend right now… AZTEC!!!
These leggings are hitting stores everywhere and are super cozy for the fall and winter months.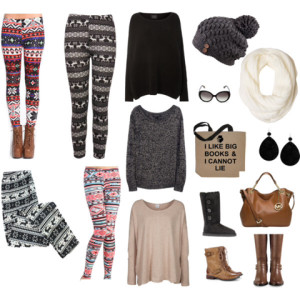 In this picture I took a variety of prints and colors, giving some easy examples of how you can wear this trend.  I would pair it with a cozy sweater or drapey long sleeve tee and then add any assortment of boot options!  Stick with an Ugg style boot for a casual look, or match a calf length leather boot for a touch of class.  Toss on a scarf or chic beanie and you have an effortless yet adorable look!
As always, never underestimate the simplicity of some simple jewelry to finish off your look.
Here are 3 different looks with printed leggings!
Soft & Cozy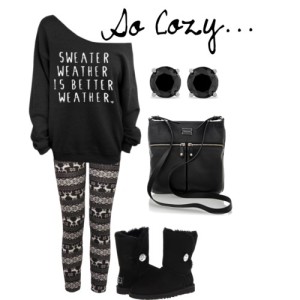 Classy & Chic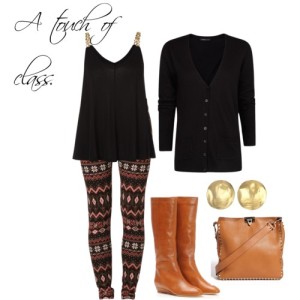 Simply Casual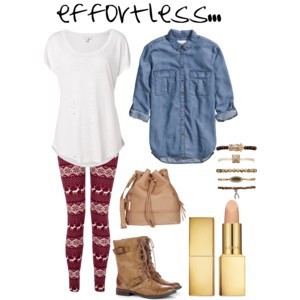 (all photos from Polyvore at http://rachael-dee-thomas.polyvore.com/)
Get creative!  Have fun and let your own unique sense of style shine though!
Let me know in the comments below YOUR favorite way to wear leggings.
Until next time-XOX