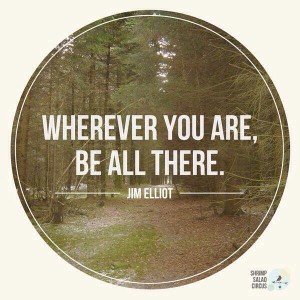 Ok.
So I have a thought and need to know if I am the only one… Or if perhaps, there are many of us in the same place.
My thought is about the importance and value of being JUST YOU.
I'm talking about being ALL IN, no matter the season. About loving FULLY, no matter the heartache. About being all that God has made YOU to be, even when its downright HARD.
YES. HARD!
My heart is reflecting this morning on BEING (who God made) ME (to be).
Just me.  Quirks, humor, personality, dreams and desires… ME!
Not comparing myself to my nearest and dearest friend.
Not being what I presume my husband wants me to be.
Not living under the shadow or cloud of who I was a year ago, but JUST BEING ME.  Today.
And you know whats amazing about this?
I AM ENOUGH!  Just the way I am. TODAY!
Jesus says in the Sermon on the Mount found in Matthew 7:13-14 "Enter by the narrow gate. For the gate is wide and the way is easy that leads to destruction, and those who enter by it are many. For the gate is narrow and the way is hard that leads to life, and those who find it are few. (Matthew 7:13-14, ESV)
Did you catch that?
THE WAY IS HARD.
From the mouth of Jesus Himself!
HARD!!?  But everyone said that when I came to know Jesus, life would get better, easier, simpler, blessed, money, provision etc…
Anyone heard these phrases?  Lived under them?  Questioned God when life didn't go quite the way you thought??
He gave us a tender yet sober warning that the WAY IS HARD…  Hard, but so incredibly and deeply worth it.
Shame tries to silence us and make us believe that we are not good enough, strong enough, pretty enough, skinny enough, patient enough or loving enough to truly walk in the fullness of God.  Yet the moment we allow shame and condemnation to take even the smallest foothold, we are allowing those lies of the enemy to crush us into despair and a false identity of who God says we are.
The silence and isolation that follow shame are real and debilitating in the process of allowing others to speak life into the deep places of our heart.  How then do we crawl out of the pit?  How do we walk as God made EACH of us to be!?
My challenge to us all today is asking The Lord what HE sees and thinks of us in every aspect of our lives. EVERY Arena.
Its not about what others think.  At the end of the day, God's opinion of me is the ONLY one that matters.
He is the giver and of life and breathes truth into my weary soul… He gives abundantly when I ASK.
YOU ARE ENOUGH.  You are created in His image.  You are FEARFULLY & WONDERFULLY made!
My mother always told me growing up that "Hard is not bad, its just hard."
There is always a light at the end of the tunnel.  Weeks, months, years of wrestling produce a patient endurance inside of us.
Let your heart be free today to just be you.  Thank The Lord for making you EXACTLY the way you are.  Take a deep breath (literally) and thank Him for your beauty, your strength, your wisdom, your friends, your family and your eternal relationship with Him.
He is near to you today and LOVES every part about you.
Ask Him to reveal a deeper measure of His nature and character today and let the beauty of who YOU are be enough!

Comment below in any capacity you would like to share and let me pray with you, agreeing with the truth that He speaks over you.
SO Today…
Just. Be. You.
Live & Love Happy,
Rachael Dee