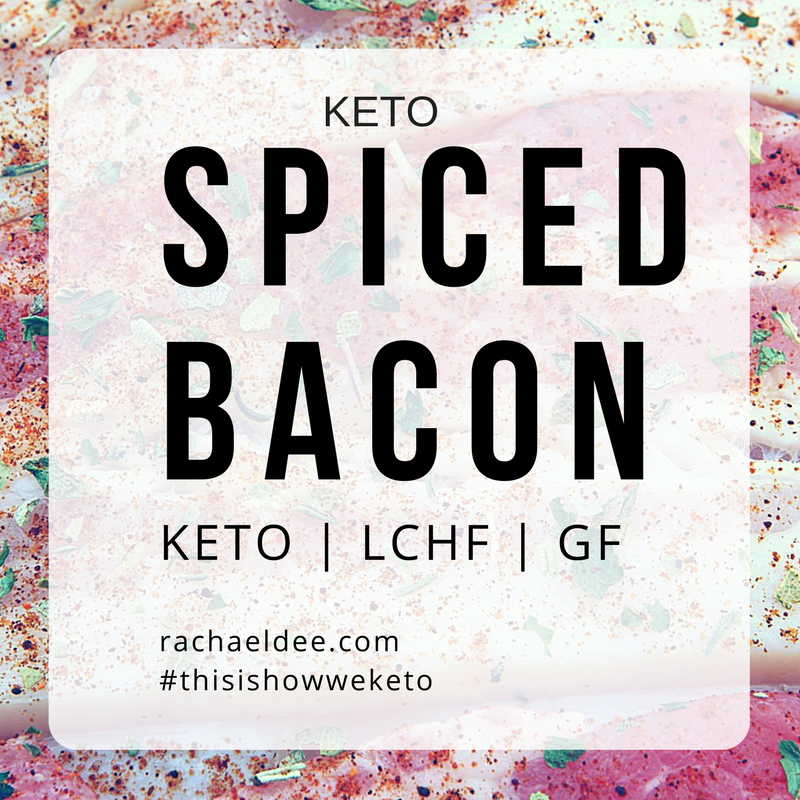 Have you ever SPICED your Bacon!?
No!!? Well my friends YOU ARE MISSING OUT ON THE BEST THING EVER!!!
Simple, easy and so many different varieties!-
What we did here is sprinkle our favorite seasoning brand BUTT RUB, where "a little butt run makes everything better" :). We get ours in bulk at Costco and LOVE putting it on literaly EVERYTHING!!!
Sprinkle on Eggs, Meat, BBQ… you name it!!
The other ingredient that Justin used was a little bit of Sukrin Gold, low carb brown sugar blend and it gave it that tiny hint of sweetness with the spice of the Butt Rub.  YALL. OMG. GAME CHANGER!
Whats great is that you can really use ANY combination of spices and we love to experiment and have fun with it!  Try some Carribean Jerk, Cajun, any sort of BBQ dry run and so much more!  Remember that a little goes a long way, so sprinkle wisely ;). Check out the video below for all the spicey details!
SPICED BACON
1-2 lbs of your favorite Bacon
1-2TBSP Butt Rub per pound of bacon
DIRECTIONS
Lay bacon out piece by piece on parchment paper or tin foil.
Take your desired seasoning and evenly coat each piece.
Place in oven for 12-15min on 400 and inhale once crispy, golden brown!
XOX,