Well Friends, it's been a while, but I felt like it was time for a FLASH SALE!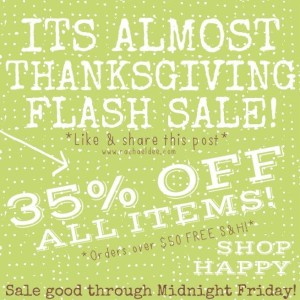 I want to give you 35% OFF YOUR ENTIRE ORDER!
That's RIGHT!
All you have to do is pop over to my FB page Rachael Dee
1.LIKE the page (if you haven't already!)
2. LIKE flash sale photo
3. SHARE the flash sale status!
Check out HUNDREDS of items HERE!
Comment on the photo (or photos) you want to purchase.
Let me know when your order is COMPLETE and leave me an email address.
I will send you an invoice through PayPal!
SHOP HAPPY!