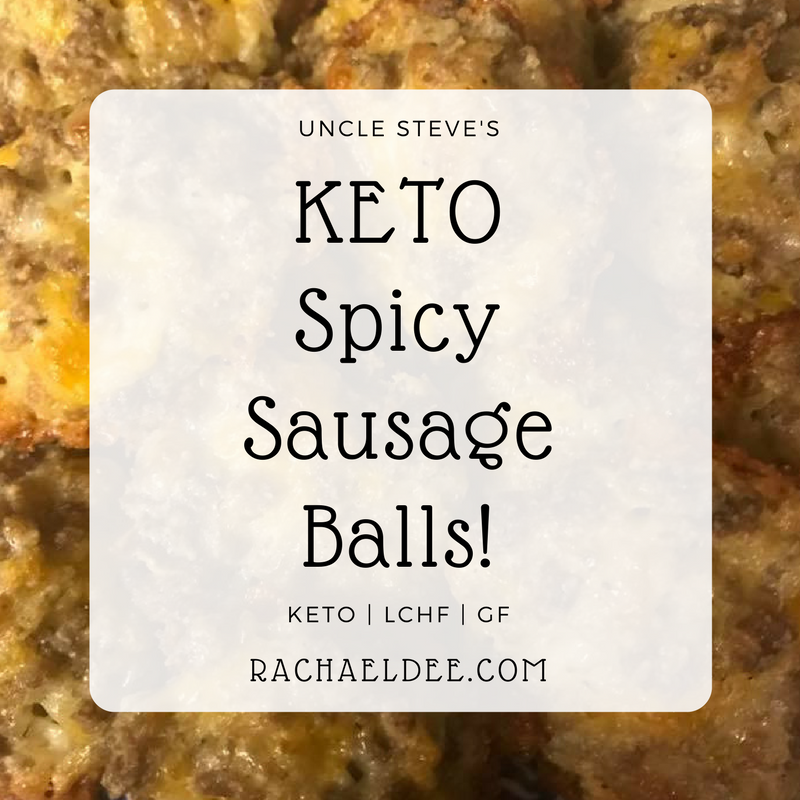 If you have been following my family long enough you have surely heard of my Uncle Steves famous SAUSAGE BALLS that are so easy to make you will wonder how you lived without them until now!
This recipe is very versatile and can truly be used with whatever cheese and ingreedients you have on hand.  We have even pressed them into muffin molds and made them into boats as well as flattened them into burger buns!
Have fun and remember, KETO should be simple, satiating and OH SO SATISFYING!
XOX,
Rachael Dee
Sausage Balls
Mix 1 cup almond flour with 4 eggs and 1 tsp baking powder.
Mix in 2 cups cheddar cheese, 1 cup mozzarella and 1 cup parmesan cheese.
Add 1 pound of cooked, crumbled sausage.
Place formed balls on greased, aluminum foil covered and cookie sheet and cook for 15 minutes at 400°.
I prefer the spicy sausage, but use whatever you love best!  Breakfast sausage is delicious! (I bake them around 415 degrees for about 18 min because I like them super crispy)
p.s.
Are we Facebook Besties!?  What about Instagram!?
Make sure we stay connected so you dont miss a single recipe, tip or Keto hack!
Facebook Community HERE!
Instagram Community HERE!
To join my uncles facebook group click HERE!