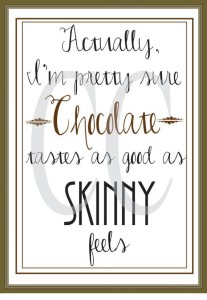 Weekends are always hard for me to stay on track and eat healthy.  Its like this switch goes off inside of me and the Chocolate monster comes out… and when the chocolate monster is present, anything green and good for you should run for cover. So instead of running up to WalMart and plunging my face into a plate of Oreo's and rinsing it down with milk… and more Oreo's, (oh don't play, I know you do it too and the whole package is gone in one sitting!!!)   I decided to look into an alternative to a good, healthy but-feels-like-I-am-cheating kind of cookie. If you haven't checked out my healthy breakfast cookies that were my husband and I's bread and butter when we first went gluten free, check it our HERE.  They are good, super versatile and delicious… Is just that I wanted something that tasted sinful and too good to be called grain free.  Could there be such a thing!? Ok, back to chocolate.  And the MONSTER.  Yes, the chocolate monster and its decision to rule my life, stomach and well being.  I went into the kitchen and jumped on Pinterest needing something that actually TASTED like a real cookie.  Going gluten free has had its ups and down's and anyone who is a baker knows that using almond meal and coconut flour can get a little tricky with texture and flavor I try to stay away from starchy "gluten free flours" because of the high sugar and how it affects my blood sugars. Real-Deal Chocolate Chip Cookies from Danielle of Against All Grain One of the reasons why I like this is because you can just make the dough and freeze it as a gift! You can bake some for your guests or wrap the dough as presents.  ADORABLE!
For full recipe, details and substitutions, pop to Danielle's website by 
CLICKING HERE!
Simple Instructions:
Ingredients:
¼ cup palm shortening or grassfed butter
¼ cup coconut palm sugar
2 tablespoons honey
1 large egg, room temperature
2 teaspoons vanilla
1½ cups blanched almond flour
2 tablespoons coconut flour
½ teaspoon baking soda
½ teaspoon sea salt
¼ cup dark chocolate pieces (just chop up a dark chocolate bar)
Preheat oven to 350 degrees F.
In a food processor, cream the palm shortening, coconut sugar, honey, egg, and vanilla for about 15 seconds until smooth and fluffy.
Add the almond flour, coconut flour, baking soda and sea salt and mix again until combined, about 30 seconds. Scrape down the sides of the bowl if needed in order to incorporate all of the flour. Pulse once or twice more.
Stir in the chocolate chips by hand.
Place golf-ball sized balls of dough on a cookie sheet lined with parchment paper. Using another sheet of parchment on top of the dough, flatten them slightly with the palm or your hand or a spatula. *The cookies don't spread much so create the size and thickness you want prior to baking them.
Bake for 9-12 minutes, until slightly golden around the edges.
Here's how mine turned out, and let me tell you they were gone in a FLASH!!! I told you, it was the chocolate monster!! So so so delicious and so easy to make!  My husband not only gave his approval, but said they tasted just as good, if not BETTER than a store-bought batch!  I was so blessed and grateful because these don't elevate or affect my blood sugars the way a normal cookie traditionally would.  Thank you Lord for grain free baking!  Now on to trying a cake or a brownie or a doughnut… Well, maybe we will leave those tasks for  another day!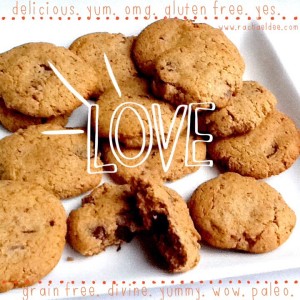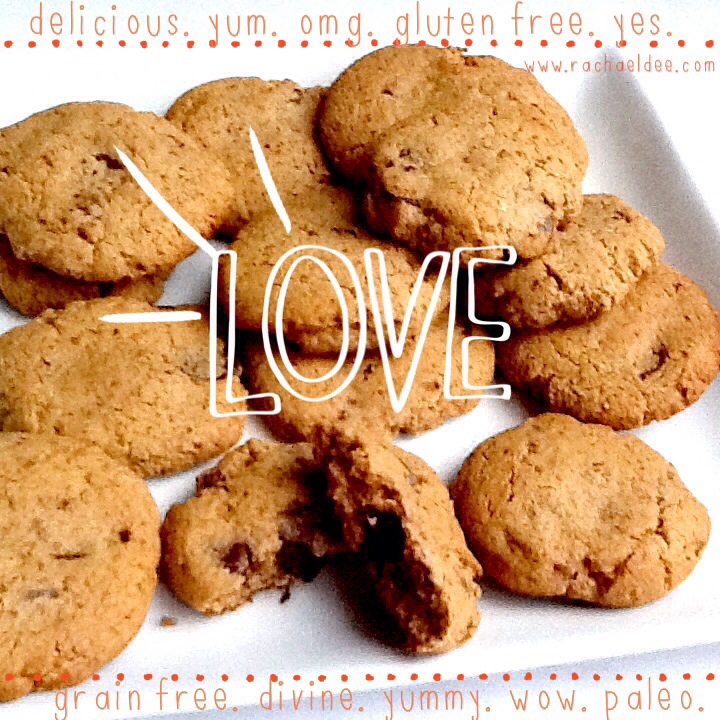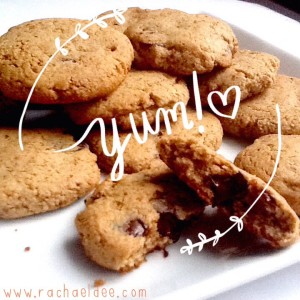 Please leave me a comment and let me know what you think of these amazing cookies!  I had so much fun making them and an even better time devouring them 😉 Hope you enjoy!
xox,