This keto bagel truly changed the way we look at the way we do bread on a LCHF way of eating!  I am so serious that this is EASY, SIMPLE and delicious!  If you like the Fathead pizza recipe, this is an amazing rendition!  I altered the recipe a bit because I find the addition of salt and a bit more cream cheese is TOTALLY delicious and worth it!
Best part is you can get REALLY creative with your seasonings!  Craving a cinnamon "sugar" (SWERVE!) bagel!!? How about tossing a few blueberries in there!!?  Oh and we can't forget PUMPKIN and ONION!  Can you tell I am done with summer and ready for FALL!!?
Have fun, get creative and stock up on these delicious yummy options that are only 5 carbs per large bagel!
xox, Rachael Dee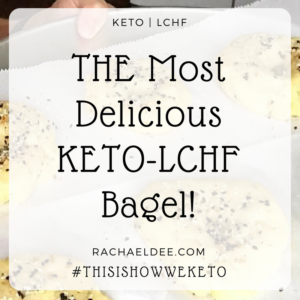 INGREDIENTS
* 1 1/2 cup Almond flour
* 1 tsp Pink Himalayan sea salt
* 1 TBSP Gluten-free baking powder
* 2 1/2 cups Mozzarella cheese (shredded)
* 3 oz Cream cheese (cubed)
* 2 large Eggs (whipped together)
* Trader Joes "Everything but the Bagel" seasoning (for topping – optional)
INSTRUCTIONS
1. Preheat the oven to 400 degrees. Lay parchment paper on cookie sheet (Don NOT use foil or wax paper as it will stick!).
2. :Mix together the almond flour, sea salt and baking powder in separate bowl then set aside. (And yes, that is 1 full tablespoon.  For this type of keto/fathead style dough, it helps the bagels to RISE!  Trust me, its worth it!!!)
3. Combine the shredded mozzarella and cubed cream cheese in a saucepan on stove on medium setting. Stir together every 30-60 seconds till melted and mixed well. (You can also use a microwave: Heat for 1min, stir and heat for an additional 30sec till mixed)
4. Stir the almond flour mixture and eggs into the melted cheese mixture. (Don't forget the eggs… been there done that and you will have a very FLAT bagel!!) This is the only part in my opinion that gets a little tricky.  I prefer to knead with my hands until a dough forms but the texture WILL be sticky.  Add a little butter to your hands and keep kneading till fully mixed.  It doesn't have to look perfect and if you are used to regular bread texture, this WILL be different! That's OK!!  If the dough becomes too hard before fully mixed or difficult to mix together (if it cools off too much it can become chunky), you can reheat it on low for a minute of so, or microwave for 20 seconds to soften it and finish mixing together.
5. Divide the dough into 6 parts or 12 for mini bagels. I place the dough in a ball and take the end of a spoon and dig out a hole in the center.  From your newly formed hole, pull and mold the dough into a circular shape (1/2-1inch hole is a good size) and then repeat with the remaining dough. If using seasoning, sprinkle the Everything But the Bagel all over the dough and gently press into the tops.
6. Bake for 10-14 minutes, until the bagels are firm and golden.