Comparison.
Nasty little bugger.
And don't even get me started on the lure of "Pinterest Perfect Living" that creates a perfect storm in too many hearts.
Don't get me wrong.  This isn't one of those BOOOOO social media posts. Oh please.
I love Pinterest and use Social Media for my business (and have met some AMAZING people over the last few years).
But let's be honest with how many times we are jealous, envious and comparing our reality with a "perfect face forward" image we see displayed.  Best photos, best moments, never struggling… Sound familiar??
THIS is what we need to stop. THIS comparison is stealing our joy.
Let's be clear about one thing.
Comparison didn't start when social media flew into our lives.
Nope.  That little beast has been around for generations, assaulting and shutting down the hearts of men and women alike.  Social Media has heightened our awareness, and we need to be on guard of where our hearts are.
But I want to address you, dear daughter, and the fight that you are in.
Did you even realize that?
YOU are in a fight for your life.
There is an enemy that is hunting you, doing everything it can to steal your joy, your heart and your core identity.  Evil is hunting us all and more often than not, we are completely unaware of the assault.
No wonder I feel like I can't get out of this pit I'm in...
You, dear daughter, were made in the image of God.
You were made PERFECT.  Beautiful.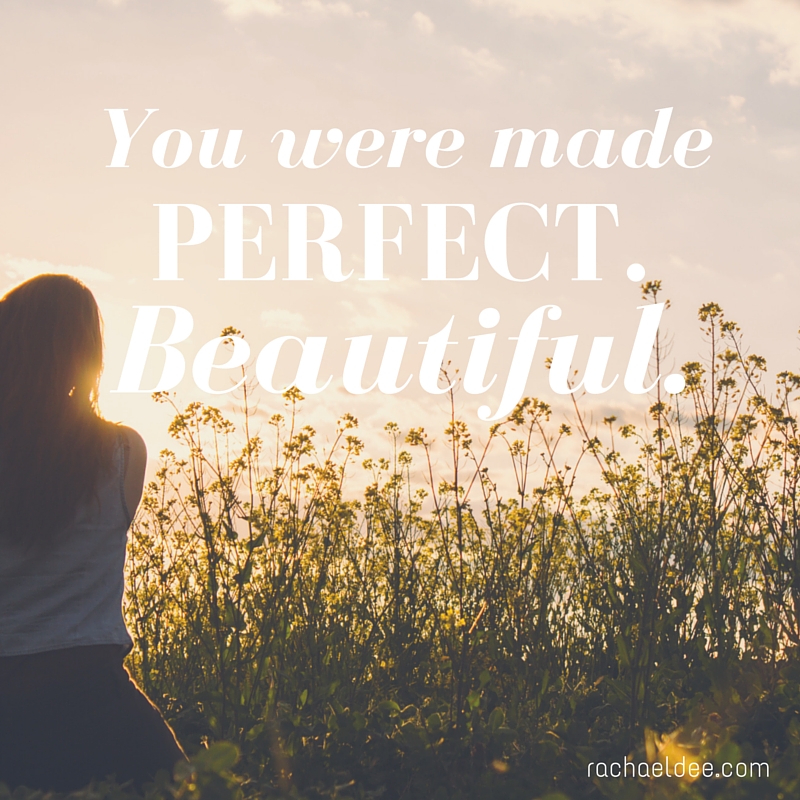 Don't give me the "But I'm overweight… I'm not pretty… I'm not good enough… strong enough… smart enough"
ENOUGH WITH THE LIES!
We have a choice to STOP believing them.
WE have to stop waking up every morning HATING what He so beautifully and purposefully made.
But only you can make that choice.
Please know that I get it.  Its real and I have lived most of my life in that space.  But we MUST believe what God says that defines us instead of believing what culture is screaming down our necks.
BE this… DO that… LOOK like this… ALWAYS be on… Never fail… SUCK IT UP… BE perfect… STAY quiet… DONT rock the boat…
ENOUGH!  I can't take it anymore!
I am so tired of living up to a standard I was never meant to reach.
I am so heartbroken watching my own life and those of dear friends crumble under the weight of comparison.
I am so READY to live in the peace and freedom promised.
We were created in HIS image and if we are accusing what He made, then ultimately we are saying that He is not good and made a mistake.
Go grab your Bible and open it up to Psalm 139 right now and let the truth wash over you.
For you created my inmost being;
    you knit me together in my mother's womb.
 I praise you because I am fearfully and wonderfully made;
    your works are wonderful,
    I know that full well.
 My frame was not hidden from you
    when I was made in the secret place,
    when I was woven together in the depths of the earth.
 Your eyes saw my unformed body;
    all the days ordained for me were written in your book
    before one of them came to be.
 How precious to me are your thoughts, God!
    How vast is the sum of them!
 Were I to count them,
    they would outnumber the grains of sand—
    when I awake, I am still with you.
Psalm 139 13-18 (Emphasis mine)
I want you to read that verse again and ask the Father what He was thinking about when He made you.
What were His emotions?
What was His desire?
What purpose were you created for?
Have you ever thought about the fact that you could have been born 100 years ago? 1000 years ago?
But God chose you for THIS time.  To be here in THIS generation with THESE pressures and trials to give HIM glory.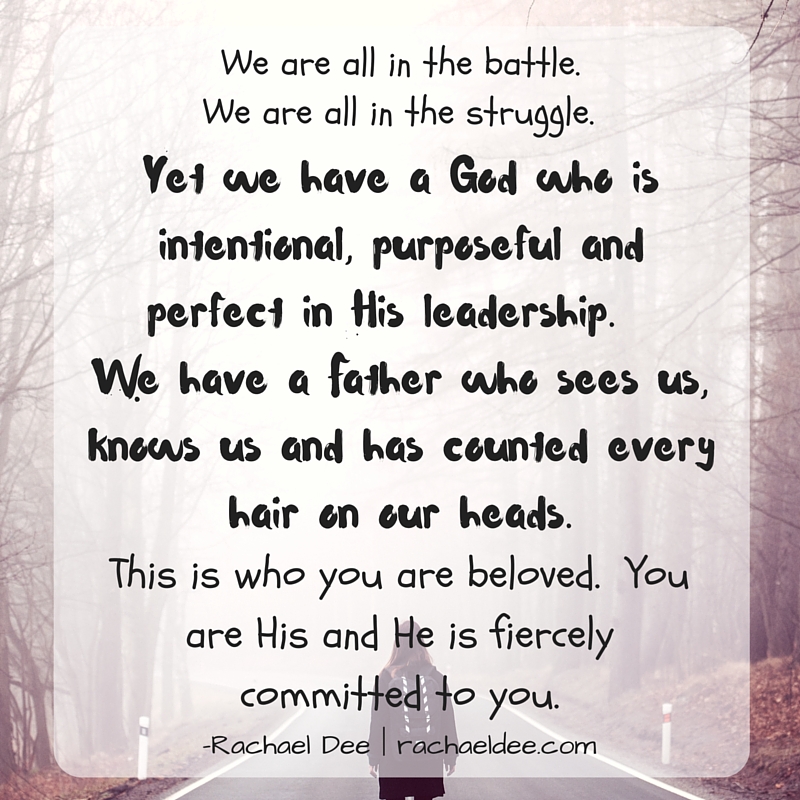 We are all in the battle.
We are all in the struggle in some way.
Yet we have a God who is intentional, purposeful and perfect in His leadership.
We have a Father who sees us, knows us and has counted every hair on our heads.
This is who you are beloved.  You are His and He is fiercely committed to you.
What if we actually walked in that confidence?
Believed what He said was true?
What if instead of comparing and tearing each other down, we actually spoke life over one another?
Love over one another?
Calling out the beauty we see in each other?
Offering rest to our weary souls and acceptance that we are ALL on the journey to stand before Him in love.
This is such a deep desire, and reach for my life.
I have not always loved well.  I recognize this.
I have made many mistakes. I also recognize this.
But I know that God is for me and has given me grace to love, grow and lean into Him.  Grace to love others as myself and speak life and truth instead of lies and accusation.
I invite you to ask Him some of these questions.
Let Him touch your heart and give you grace to love who He made.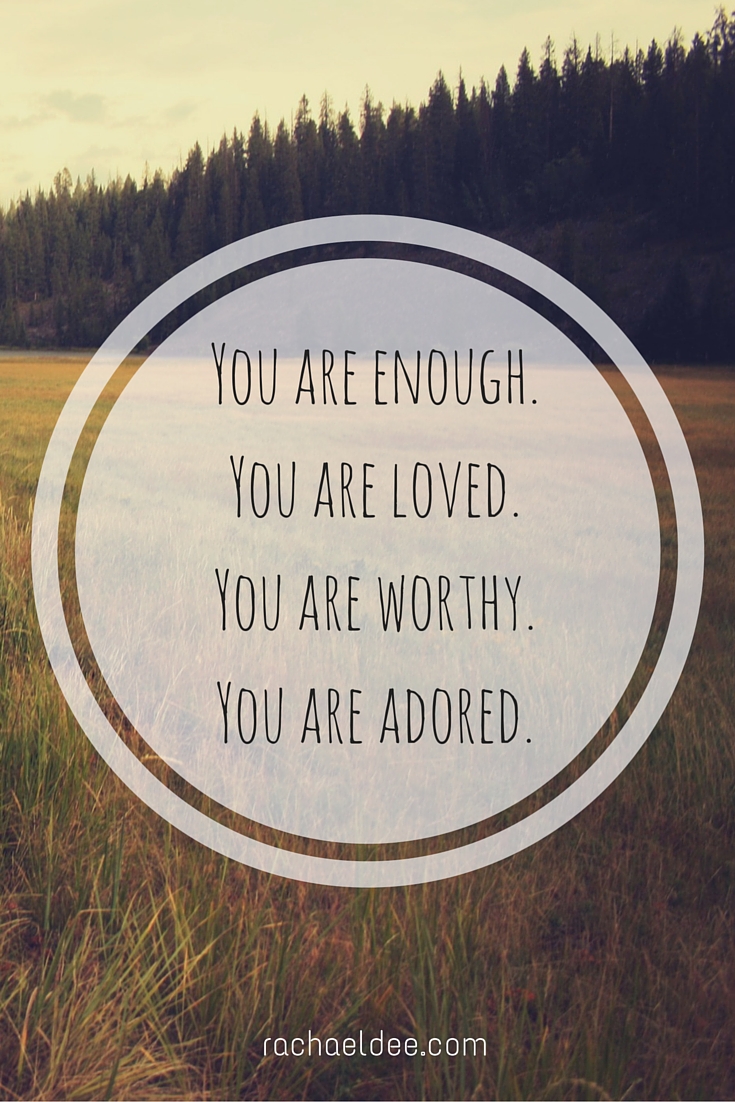 You are enough.
You are loved.
You are worthy.
You are adored.
Start the dialogue and let Him pursue the deeper places of your heart.
I'll do it with you.  Who knows, maybe if we stop comparing ourselves so much, we could actually love well.