I sure do hope you like a good love story…
Because this one sometimes seems too good to be true!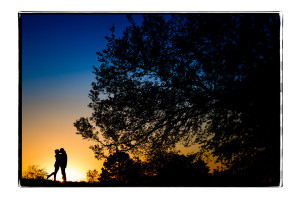 What you have to understand about Justin and I is that we have known each other through a mutual friend for over 6 and a half years now. We have a TON of history! I actually remember the first day I met him in the coffee shop when I was visiting before I moved to Kansas City. It was his smile that caused me to take note of him… that smile that can brighten up any room.
Fast forward four years or so, and you find Justin in his fourth year of IHOPU and I was in my second year.  The Lord started moving significantly in the midst of our student body and we started to see hundreds of physical miracles in healings, and incredible testimonies of deliverance from fear, rejection & self hatred!  It was then that our paths crossed again and the sparks started to fly!  I was drawn to him in such a unique way and wondered if he would ever take notice of me…
Well as the weeks progressed, it was obvious to all of our friends that we "clicked" and as ANY of you know, word started spreading among them fast.  Many of our friends were talking about how they thought we should start dating, but Justin and I had never talked about that face to face… Well, that is, until he pulled me into a side room at the House of Prayer, and had a DTR (define the relationship) talk.  I sat there, as a 28 year old woman, with eyes wide open, as he so graciously & humbly explained that we were amazing friends and that he didn't see it EVER CHANGING. 
(Now hold on a minute, what does this word EVER mean??)
Though I was crushed & secretly hoping it would move into something MORE, I respected the humility and grace he walked in as he repented and asked my forgiveness for leading me the wrong way through his actions. I was stunned at his decision, but none the less honored by his approach.  That was actually the start of a beautiful, deep and lasting friendship that built over the course of the next 2 years.
Fast forward, and now I was entering into my senior year of IHOPU, preparing to move down to Atlanta Georgia to serve at the house of prayer for my senior apprenticeship.  I had been there for just over three weeks when one seemingly normal Tuesday afternoon turned everything upside down!
That day, as I was leaving a leadership meeting, I walked out to a box of red roses that were sent overnight to the prayer room, ANONYMOUSLY with a single verse that said "Song of Songs 1:15" which says "you are all together beautiful my love; you are all together beautiful.  You have doves eyes."  Frantically I searched for a name, but could not find one.  I began to text message and call EVERYONE I thought might send me the flowers to "encourage me" (I had been having a rough week) but no one seemed to know who the mystery flowers were from.  I dared not let my heart believe that I could possibly have a suitor, and went home that night thanking the Lord for the sweet gift to my heart.  As I unwrapped the flowers and arranged them in the stunning vase it came with, I went upstairs to go to bed.
Literally minutes later I get a text message from, you guessed it- JUSTIN.
It simply said: "Watcha doin?"
Ummm… hold up a minute.  Something ANY of his friends know now and absolutely knew THEN was that JUSTIN NEVER SENDS TEXT MESSAGES…
Let alone one so strange as "watcha doin?"
So, thinking practically and rationally, I assumed he texted the wrong Rachael (there were 7-8 at our church then) and reminded him: "Me?  I'm in GEORGIA, about to go to bed… what are you doing??"
As puzzled as I was, it was still not clicking for me that the flowers could be from him.  We were the dearest of friends, and I never thought he could be a potential suitor!
He responds back  "OH, I am just recovering from a long road trip.  You have beautiful weather here."
Now I am just BAFFLED! "YOU ARE IN GEORGIA!?!?!?!" I responded…
(I honestly thought he was on a church ministry trip of some sort and DIDN'T TELL ME he was coming into town. Yup, still no connection to the flowers)
Then he drops the bomb…
"Would you like to go for a walk?'
"I am outside"
Justin. Here?  IN GEORGIA? I threw on a sweatshirt on a FLEW downstairs.  There he was, leaning up against my car, tears in his eyes, and it started to hit me like waves crashing down on my heart.
"Oh my goodness. OH my goodness. OH. MY goodness…" was all I was able to muster in my head as he walked up and gave me a hug.  But the words that were coming out of my mouth were "JUSTIN WHY ARE YOU IN GEORGIA?  Why are you in GEORGIA… oh goodness… JUSTIN?  Why are you… here??"
Every part of my body was trembling, shaking and I felt like I was floating as I saw the tenderness on his face and tears welling up in his eyes.  So much emotion wrapped up in a single moment as he then proceeded to lay his heart BOLDLY on the line, telling me that he loved me, that he always loved me, and that he wanted to serve, honor and love me for the rest of my life.  He told me that he knew no other woman that provoked him to love Jesus more than me.  He didn't want to date me to get to know me-we were the best of friends and he knew so much about me.  He wanted to spend the rest of his life getting to know the parts about me that he didn't know. He made it clear that it was NOT a proposal, but that in his intention to date me, he wanted me to know what it was unto, and that was marriage.
I had to sit down due to the utter shock wave that just hit me, but as he told me the story again, and then again a third time just so I could try and wrap my head around what was taking place, I started to giggle. (That part shocked me!  My heart was SO open to him!) We ended up talking for hours that night and the next day I expressed to him that I would be honored if he would pursue me.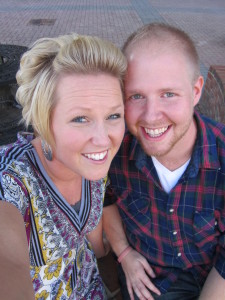 (Or first picture together… I was so nervous lol!)
2 weeks after that, I told him that my heart had caught up and that I was falling truly, madly and deeply in love with him.  He was the man that I had deep down always loved and cherished for years.  We began a long distance relationship as I concluded my time in Georgia, (Which included him flying out to Texas for Thanksgiving with my family) and the weekend I moved back home, he surprised me AGAIN by proposing the night before we went to Minnesota to spend Christmas 2011 with his family!!!!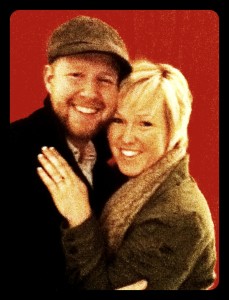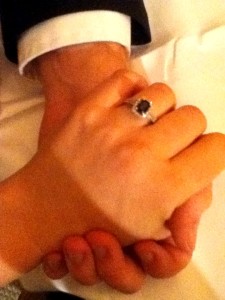 That night was a beautiful dream.  I walked into my house, assuming plans were to meet up with him to go on a date night, and I walked into my house FULLY TRANSFORMED into the most stunning, gorgeous, breathtaking proposal I have ever seen!  A hundred candles lined the staircase as I walked in, roses were delicately placed about the room, and there were thousands of paper hearts cut out by hand all over the floor.  I thought that I was dreaming as he walked up to me, dropped down to one knee, asking me to be his wife.  I said yes breathlessly and we shared our first kiss in that moment, sealing the promise of betrothal as husband and wife. The weeks that followed that were short, but so sweet as we began to dream, and plan and talk about our future lives coming together as one.  My best friend.  My soul mate.  My other half.
I was to become Mrs. Rachael Thomas… and nothing could have made me happier.
5 short weeks later, Justin packed up his things to fulfill his ministry assignment and commitment to the Lord working and serving in a children's home in Brazil for 6 months.  Our wedding date was set for September 27, 2012 and was exactly ONE YEAR to the day from when Justin drove down to Georgia, showed up on my doorstep, and fully won my heart.  The road has been long as the majority of our dating relationship was long distance, but it was truly a delight to come so close to the man that I am about to be married to.  I am so proud of his hard work and devotion to the Lord as he served and loved on these kids, and I am humbled by the way he loves Jesus in the midst of such difficulties.  He truly is a man after Gods own heart.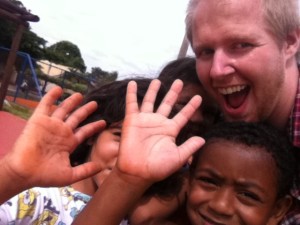 I was 30 years old when we said our vows to each other, and I have many friends who are in their late 20's, early 30's or even their 40's and still single.  My encouragement to your hearts is the fact that when Jesus writes the most beautiful love story, it is truly worth the wait.
When we as women STOP trying to steer or dictate our own happiness and future plans, we allow God to come into those areas of loneliness and write His love upon our hearts.  Justin does not bring me fulfillment.  He is a conduit of love that points me back to Jesus daily.  I cannot look to him to satisfy my loneliness; only Jesus can do that through the power of the Holy Spirit.  He is my best friend and provokes me to love Jesus on a daily basis.  I couldn't ask for a better husband and am grateful to the Lords leadership and timing.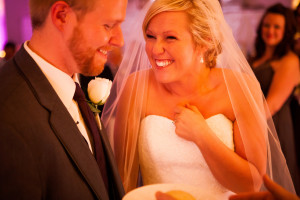 I always thought that I would be married young, yet see the perfect purpose in why the Lord has us both WAIT.  Let go of control.  Repent for trying to steer your own future.  Thank God for the season He has you in.  Its truly in the waiting that your soul will find rest.  Grace grace to you today and remember that there is joy in whatever season you find yourself in.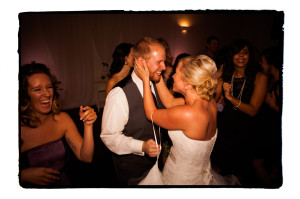 Little fun fact-We have been married for 432 days now and it has been the most amazing, wonderful and FUN adventure of my life.
But those are stories for another day 😉